Practice Facility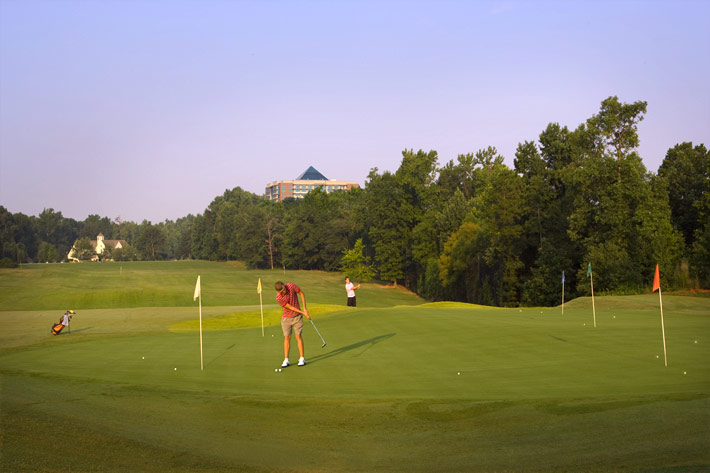 All great golfers will tell you, "Practice makes perfect!"
Rocky River has public practice facilities that include a well manicured putting and chipping green, four target greens and 30 grass teeing stations. The putting green is open to the public during normal pro shop hours. You can also hit chip shots from around the public putting green, but we ask that shots are not lob shots that would create a ball mark.
The driving range  has 20 artificial range stations that are used only when weather makes use of the grass teeing area impossible. Practice balls are available during golf shop hours at $5 for a small bag (30-35 balls) or $8 for a large bag (65 – 75 balls). We also have a range punch card good for 10 large baskets for the special price of $60 (a $20 savings).
The golf shop hours are 7 am to 7 pm during the summer, spring and fall months, and from 8 am to 5:30 pm during the winter months. Range balls are sold until the close of the golf shop, except on Monday and Thursday when the last basket is sold a ½ Hour before closing to allow for routine maintenance of the range.
Check the link from the homepage to view pictures of the state of the art teaching and practice facility that is home to the 6-time defending Atlantic-10 champion Charlotte 49ers Men's Golf Team. We have 3 Class 'A' PGA Professionals and 2 PGA Apprentices on staff to help you take your game to the next level. The private practice facility is used for instruction and Annual Pass holders, and is not open to the public. The digital video analysis is available with any lesson, but must be scheduled in advance to assure availability of the facility.